Vermicomposting is one of the best ways to reduce your carbon footprint while offering your plants high-quality compost. The process is easier than you might think. In fact, the hardest part might be choosing the worm farm!
Vermihut and Worm Factory are two of the highest-rated worm farms on the market. The compost bins are incredibly similar. So, it might be hard for beginners to assess which is the one for you.
Well, you're in luck! In this article, we'll compare Vermihut vs. Worm Factory to help you start your composting journey. Let's dive in!
Differences Between Vermihut vs. Worm Factory
Vermihut and Worm Factory are superb compost bins. Yet, they differ slightly in the following aspects:
Size
Vermihut's dimensions are 17 × 17 × 33, while Worm Factory's dimensions are 18 × 18 × 15. That's only natural, since Vermihut has five trays, while Worm Factory has four.
Yet, you can adjust the size of each worm farm depending on your needs. So, if you don't have enough room for Vermihut, simply remove the top tray.
The weight of both worm farms is pretty similar. When empty, Vermihut weighs 13 lbs, and Worm Factory stands at 11 lbs.
Due to the legs of the Worm Factory, its four trays stand taller, which makes its handling much easier. Your back will definitely thank you for this farm!
On the other hand, Vermihut's five trays might be stacked shorter, but they're much sturdier. That's because Vermihut comes equipped with a unique set of "shoes."
Capacity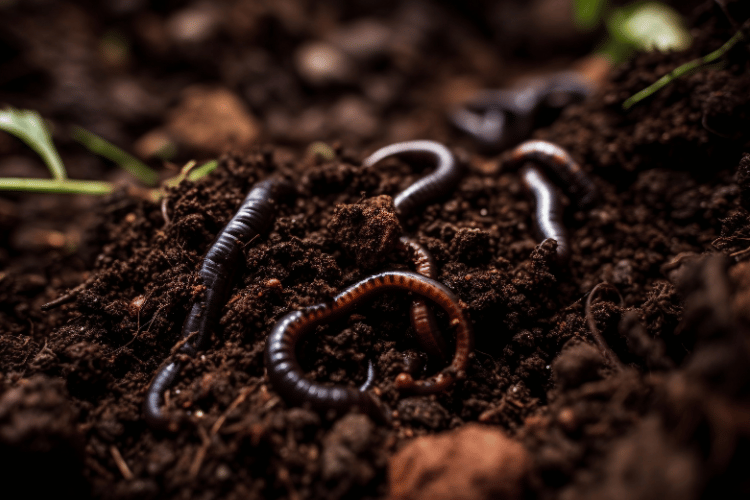 The capacity of Vermihut is a whopping 40 liters, while Worm Factory is six liters (12.5 lbs) per tray, which equals about 24 liters.
That said, the amount of bedding and worms the bin can hold is irrelevant compared to the food waste composted per day.
Starting with Vermihut, each tray houses two pounds of worms that can compost half their weight in organic waste. So, you can get at least five pounds of compost in one day.
In contrast, Worm Factory can compost five to eight pounds of organic waste in a week. You might increase the composting capacity by expanding the trays from four to seven, as the worm population will also increase.
Design
Both worm farms are made of durable plastic. Yet, Worm Factory's sleek design is easier on the eyes than Vermihut. Especially considering the worm farm comes in neutral shades such as black, terracotta, and of course, green.
Alternatively, you only have two color options with Vermihut, which are green and terracotta.
Furthermore, Vermihut is pretty bulky. The worm farm has distinct "shoes" that keep it anchored to the ground. They also act as ant trappers when you fill them with water.
Accordingly, Vermihut is sturdier but harder to move around. So, you should be careful when choosing a location for the worm farm.
Similarities Between Vermihut and Worm Factory
Here are the main similarities between Vermihut and Worm Factory:
Ease of Use
Vermihut and Worm Factory are excellent compost systems for beginners. The reason is that you can assemble them in minutes!
The best part is that the compost bins come with everything you need to set up your worm farm, including the worms.
For starters, Vermihut's kit includes worm bedding material, drain cloths for the smell, ant trappers, and a worm-saver tray.
Worm Factory also comes with bedding material, a worm ladder, a scrapper, a hand rake, and a thermometer.
That's not all. Both worm farms include a built-in liquid drainage system. In simple terms, the liquid automatically drains from the liquid collection tray through the drain spigot into an outside container. So, you can use the worm tea as fertilizer whenever you need it.
As for the worm castings, the tray system in the two worm farms is almost identical. Once the top feeding tray is full, you can remove the castings from the bottom tray.
These worm castings are a great superfood for your garden! You can use them right away or store them for later.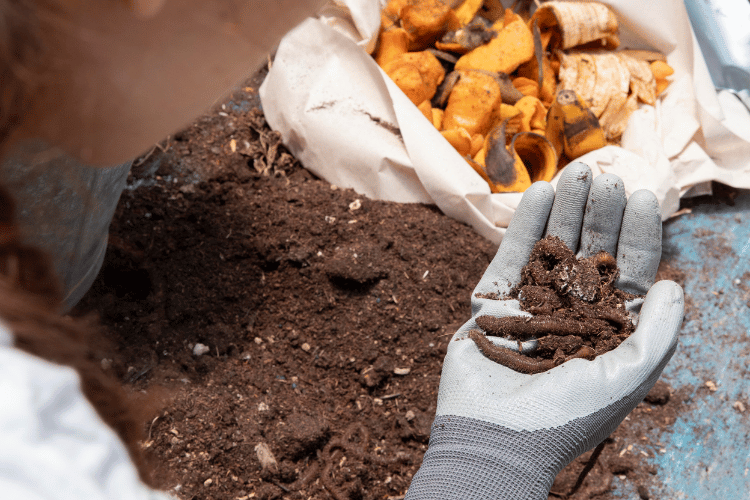 Odorless
Vermihut and Worm Factory offer ideal odorless operations. While the mechanisms might be different, you won't notice the smell of these compost bins.
To start, Vermihut has a one-of-a-kind component called a "V-board" built into the air-vented lid. In addition, there's a coconut fiber mat that prevents any excess odor that might occur due to overfeeding the worms.
Worm Factory offers plenty of ventilation to keep odors away. Moreover, the worm farm comes with extensive instructions on how to keep the system healthy and odor-free.
Final Verdict: Which Compost Bin Should You Get?
There's no denying that Vermihut and Worm Factory are exceptional worm farms. Regardless of your choice, you'll have an expandable, odorless compost bin that's easy to assemble and use.
There are a couple of aspects that you should consider before making your choice. If you want a larger capacity, and a sturdier, vermin-free system, Vermihut might be the best option for you.
However, if you want a worm farm with an attractive design that won't strain your back when collecting castings, you should go for Worm Factory.
Here are the main things you'll find in Vermihut but not Worm Factory:
Ant trappers
V-board
Drain cloth
Coconut coir bedding
Worm Factory has the following advantages:
Tall legs for easy access
Numerous color options
Accessory kit with a hand rake and scrapper
Frequently Asked Questions
Are worm farms better than compost bins?
Worm composting is a great option if you have limited space. It's quick, efficient, and produces magnificent fertilizer that you can use in your garden.
The compost worms break down organic matter quickly, leaving no odor behind. So, you can use a worm farm indoors or outdoors.
How can I harvest worm castings from a tray worm farm?
Harvesting worm castings is simpler than you might imagine. Since each tray is removable, the worm castings are much more manageable. All you have to do is scoop out the castings from a tray. Then, move the clean to the top, so it becomes the new feeding tray.
Conclusion
If you're buying a worm farm, choosing between Vermihut vs. Worm Factory might be the trickiest step in your vermicomposting journey. They're both superb farms!
Still, Vermihut is noticeably larger and sturdier than Worm Factory. In contrast, the latter is easier to move around and access due to its legs.
That said, both worm farms are great for beginners since they're easy to use and assemble. You can use either as an indoor worm composter, as they're odorless and vermin-free!